On 1st of May, I should be talking about lily of the Valley (as in France, the tradition is to offer lily of the Valley as lucky-charm) ... but considering the grey sky we have today in France, I prefer to talk about another flower which is more sunny.

On the web, I sometimes make some wonderful discoveries, have amazing surprises... which offers the opportunity to have a nice walk in the countryside or simply have fun in the garden. The younger ones will have fun picking flowers during the walk and the older will delight the taste of the jelly made of it.

I stumbled upon a recipe of dandelion and lemon jelly... First, I was intrigued, but as in France we eat young dandelion leaves in salads in the springtime, why not a jelly with the flowers ?

In Franche Comté, this jelly has nothing amazing, since there is a specialty called "cramaillote" from the old franc-comtois word "cramaillot" meaning dandelion. This flowers jelly is generally made in the springtime when the 1st dandelion flowers of the year appears in the fields, green spaces, and gardens...

Finally Dandelion is not only the invasive plant of our gardens, it is also, but we tend to forget it, a medicinal plant as shown by its Latin name of Taraxacum officinale. In medicine, it is mainly used to treat liver and gallbladder aches. They also lend virtues against sore throat, anemia, fever, fluid retention...
In French language, Dandelion is called "pissenlit" which is associated with its diuretic properties... as we tell children, it is to "wet your bed" ("pisse au lit") if you play to much with dandelion flowers... sometime even French may have strange idea when putting name on things !

Through the recipes found on the web there are 2 schools emerging, and I will not indicate which one is the better as I did not follow one in whole:

- Whole flowers or petals only? 2 schools, one snip off the base of dandelion to keep just the yellow petals, the other removes the milky stems at the base of the flower (anyway don't add any part of the milky stem to avoid a bitter taste in the jelly)
- Dry under the sun or not the flowers after washing? Again two schools, one saying that when dried under the sun, the jelly tastes like hay ... (I would not disagree on that particular matter and only dry it as I use to do with lettuce)
- Granulated sugar, jelling sugar ....? No opinion, I used agar-agar and a mixture of 2 kinds of sugar... but the traditional method uses only granulated sugar
- With citrus juice or only water ? For me, it is with lemon for the yellow ! But it is as you like it.

Well, as usual feel free to make up your own mind and your own taste.

Here, I used the recipe given by Marie Chioca but adapted it to my own way of doing... It is far from the traditional "cramaillote", so I will talk about flower jelly.

Obviously, do not pick up flowers anywhere if you want to try this very tasty jelly : avoid flowers of the roadsides, fields which are nearby pesticide treated fields...

Finally, a very nice recipe that reconciles me with dandelion... I must admit that I regularly complain"ed" that my garden is overgrown with dandelion and usually sends my "Lutines" to collect the small yellow flowers to avoid proliferation ... Now I will look differently at my dandelions and will enoy them every spring in jelly.

It seems that it is also possible to make dandelion wine ... that may be a next experience.


Dandelion and lemon jelly


For one or two jam pot (depending on size)
Ingredients
40 g dandelion flowers or petals
500 ml water
1 organic lemon
2 g agar-agar
1 vanilla bean
50 ml agave syrup
80 g sugar
Rince and spin-dry the dandelion flowers (like you would do with a lettuce).
In a pan, put the flowers with water, the vanilla bean cut into 2 pieces and seeds scratched, the lemon zest and juice.
Bring to simmer for 10 minutes at low heat.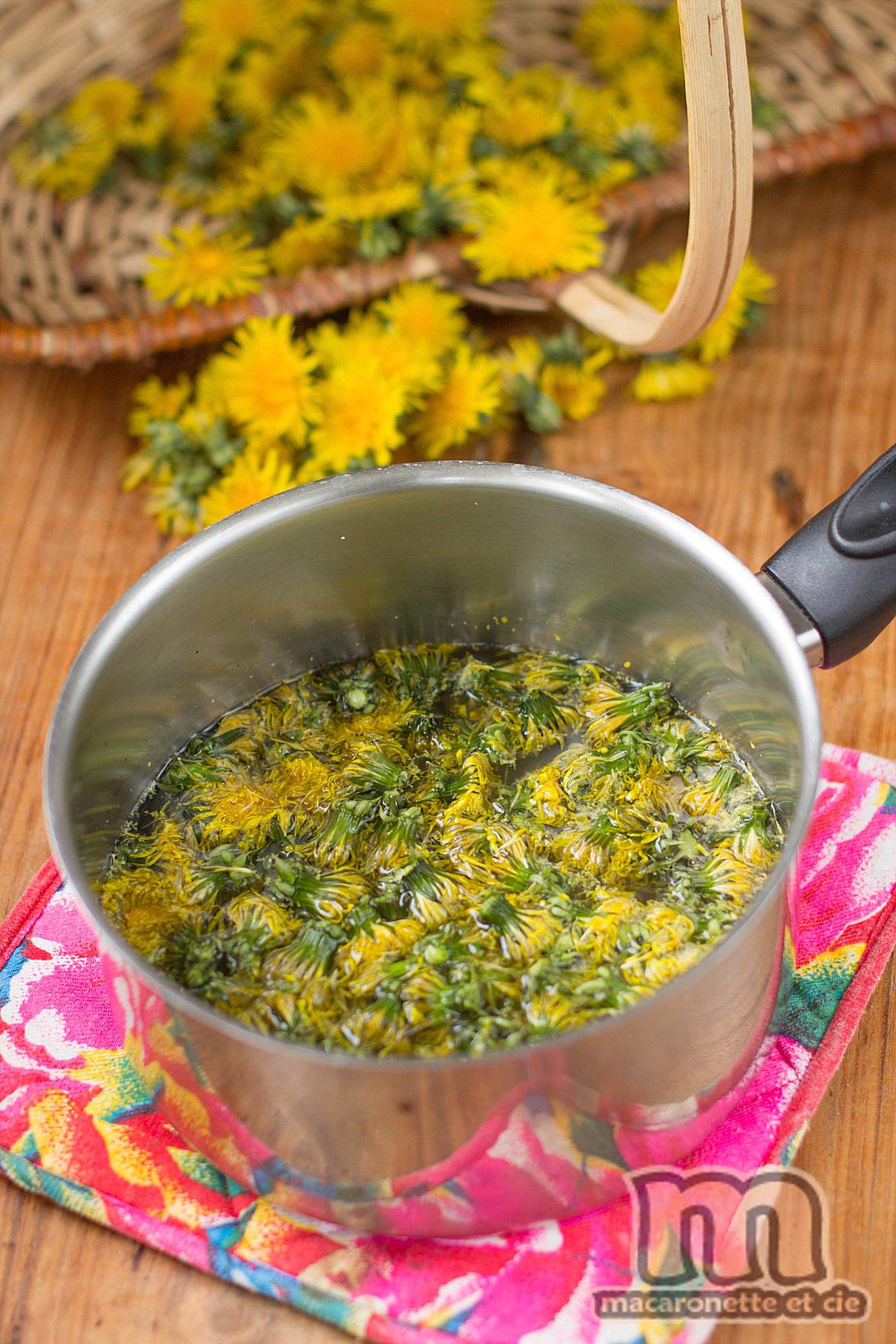 Strain through a coffee filter or or jelly bag to remove all petals, vanilla bean and lemon zest.
Put the juice back in the pan, add the sugar, the agave syrup and bring to simmer for 5 minutes at low heat.
Then sprinkle the agar-agar powder over the juice and simmer for another 3 minutes.
Pour the hot jelly in jelly jars.
Close and return the jars to cool.
When open, the jelly will be kept in the fridge and to consume up to 15 days
(as it is not a pure sugar jelly).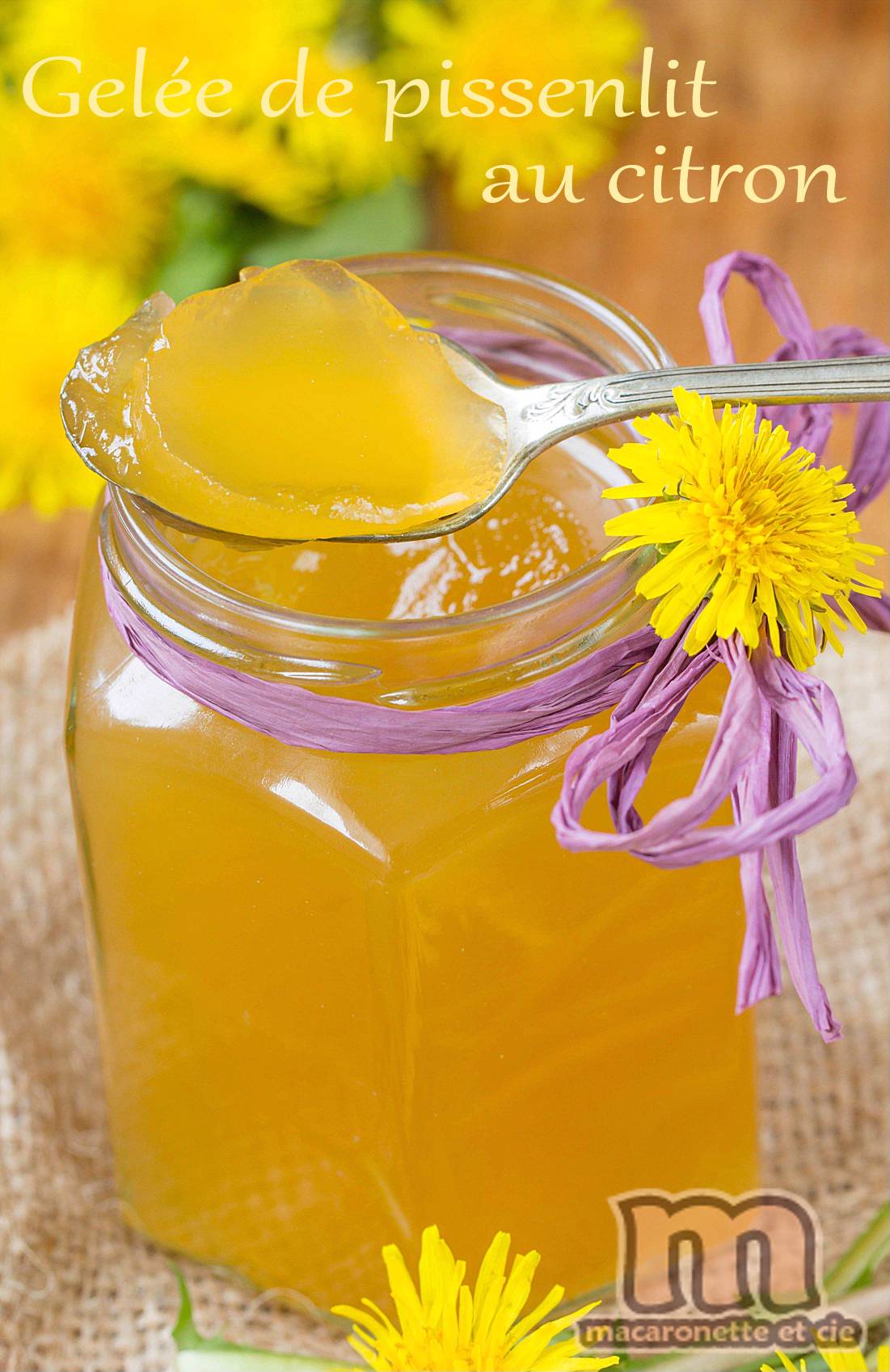 Another style of photo
Originally I considered the following photo to be quite poor, as it is blurry and overexposed...
after passing it through lightroom... I finally like it to share.
Do not hesitate to leave a comment,
or like on FB or twitter if you enjoy this post.

Sorry for my English, which may be not proper, I am not a English native and do my best to translate or adapt my French post to help non French speaker/readers who follows my blog.

Click on the flag to come back to the French version
All texts and photos on this blog are the property of Macaronette et Cie (or Sbc).