After a couple of holidays in Britany (West of France, but most of English people know where Britany is), I wanted to extend the holiday atmosphere at home, by cooking some biscuits with the flour brought from the far west part of France, that is to say : buckwheat flour.

Buckwheat is one of the culinary emblems of the Breton cuisine mainly through the traditional buckwheat pancakes, but also the "kig-ha-farz", the "groux" (a kind of porridge), the "pouloud" (buckwheat balls cooked in milk)... and more generally any recipe of "farz".
Today a lot of other recipes are made from buckwheat flour, such as Breton "galette", bread (then associated with another cereal)...

It is not uncommon in summer to see some buckwheat fields in the countryside of Britany, although rarer then wheat or corn fields.
In Britany, originally, buckwheat was the wheat of poor people. It is said that buckwheat was created by the Devil, as it is black (in French buckwheat is also called "black wheat"), whereas wheat was created by God, as it is white. A lot of legends exist in Britany about buckwheat.
In organic shop, it is common to find buckwheat groat, which is cooked like rice. Its taste is stronger than rice.
Despite the name, buckwheat is not related to wheat. Buckwheat is a genus in the polygonaceae family, such as sorrel and rhubarb. As not a wheat, buckwheat contains no gluten.
Its flower is white with some light pink color, and is a good honey plant, producing a dark, strong honey.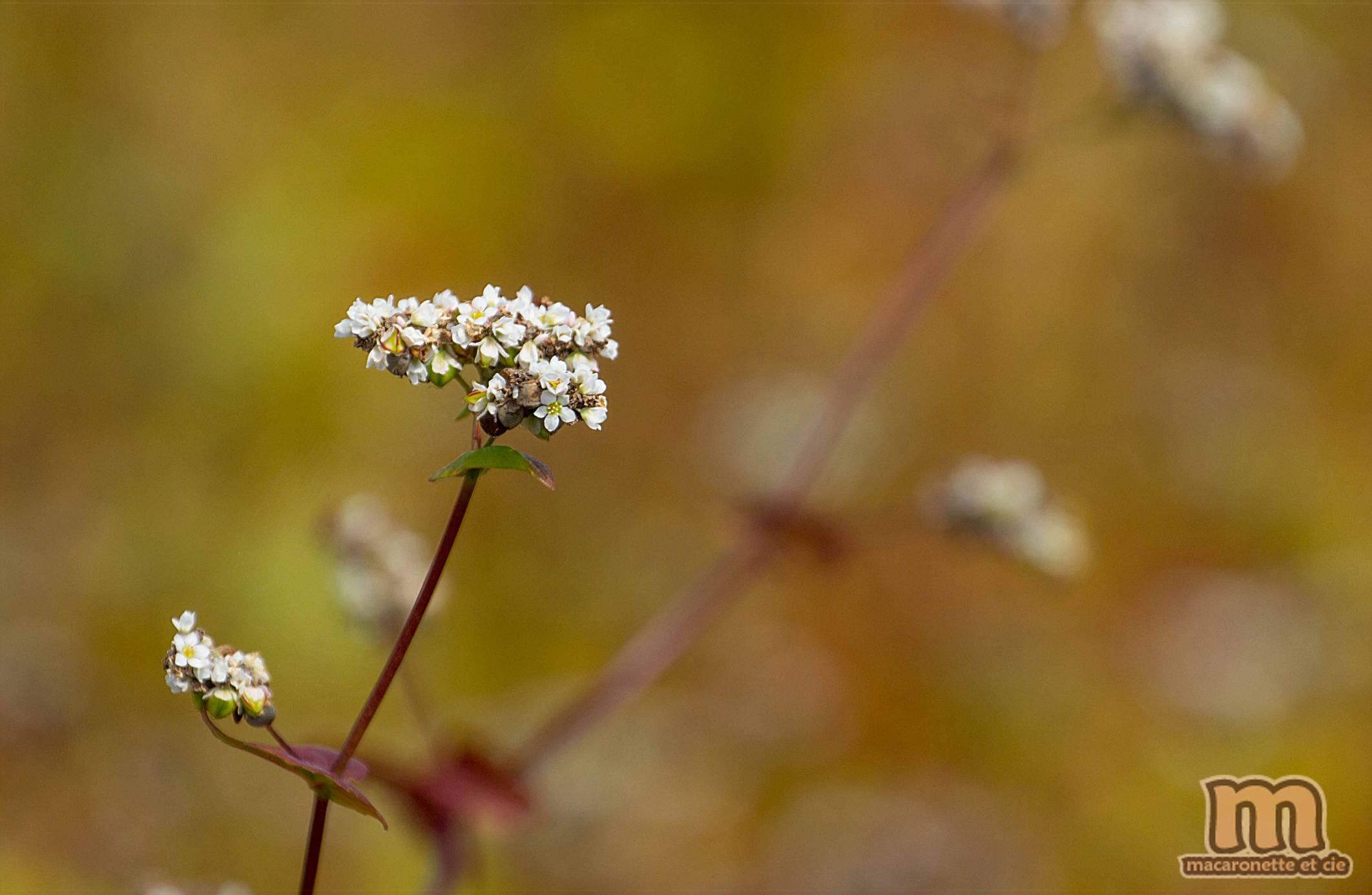 As time goes by seeds are appearing, which are called achene, having a three angles form. Each only contains a single seed inside a hard outer hull.
The stem are red color. Such stem are not good for hay and straw to feed farm animals, as it is toxic stem.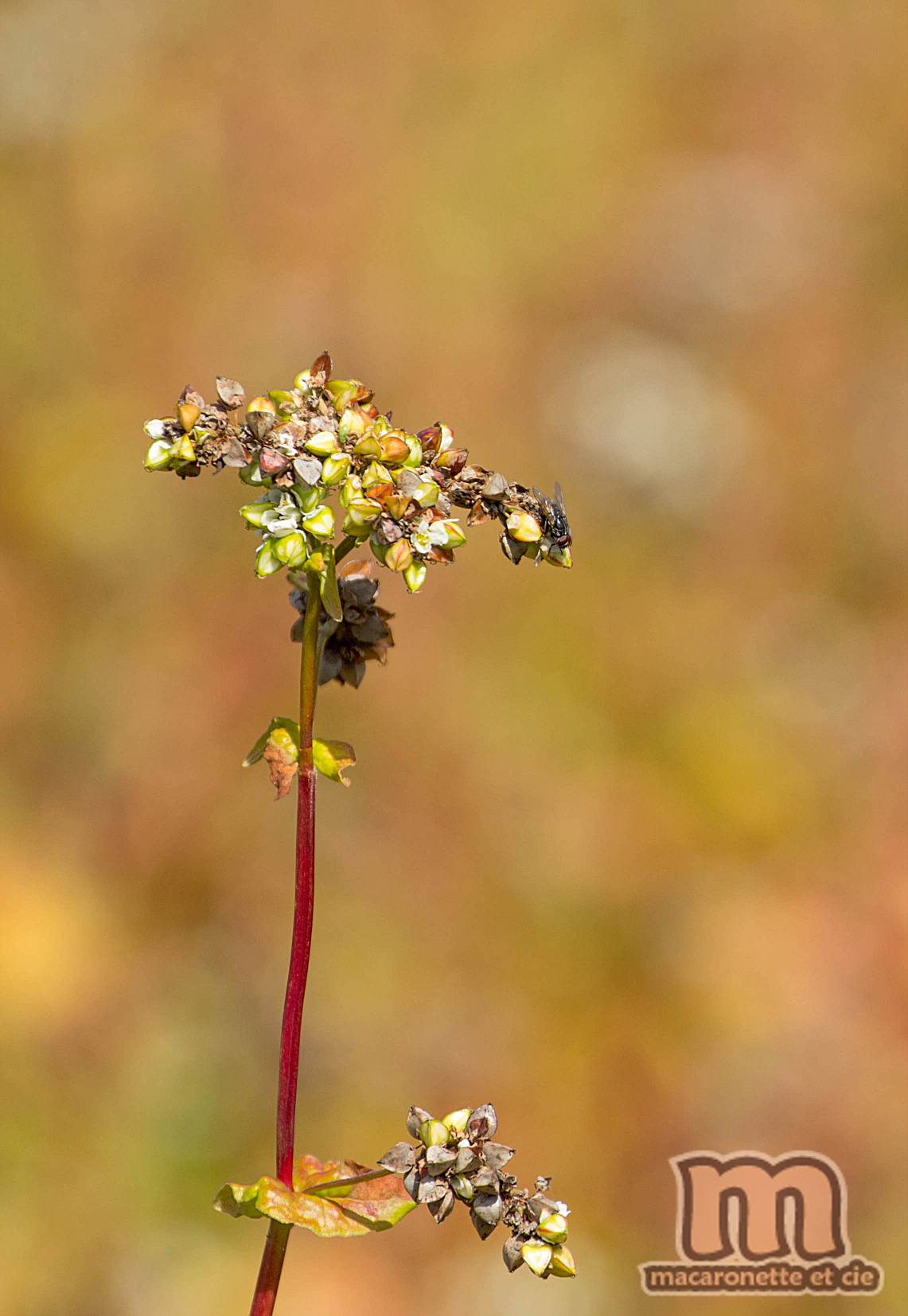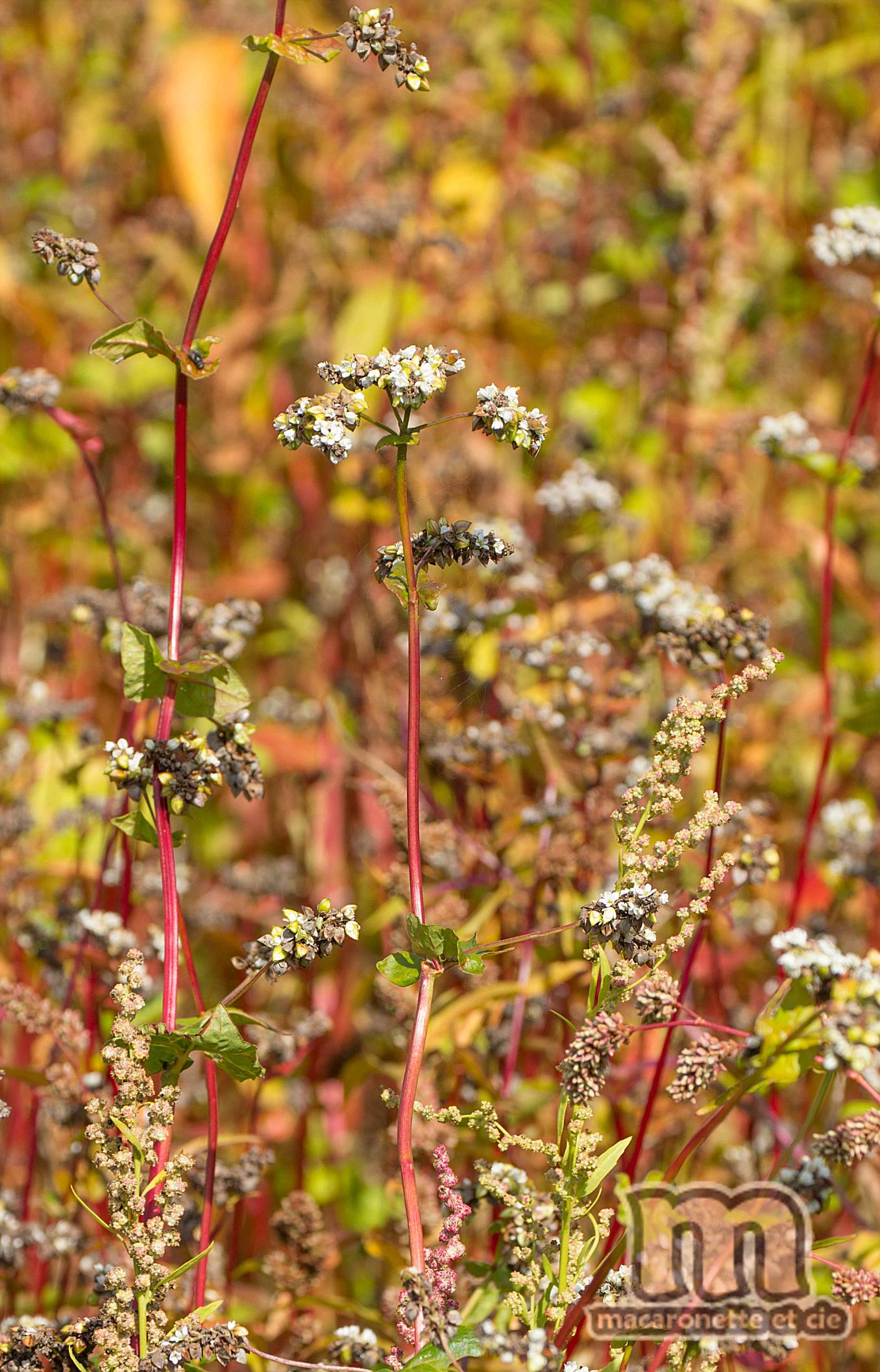 In France, the other name of buckwheat is sarrasin, as a lot of people found it was coming from the Middle East, as it was introduced by the crusaders, but this is wrong as its origin is North Asia.
Buckwheat is used not only in Breton cuisine, but also in Japanese's one with notably soba, or Russian, Polish and Jewish cuisine where buckwheat groat are cooked like rice, where buckwheat is respectively called "Гречи́ха" (grechikha), "каша" (Kasha) and "קאַשי".
Originaly I wanted to make some buckwheat biscuit, as in the recipe of Saveur Passion, which is a good one, as shown in the hereafter photo, but the form was not appropriate for the dessert I intended to make... and that will be the subject of a next post.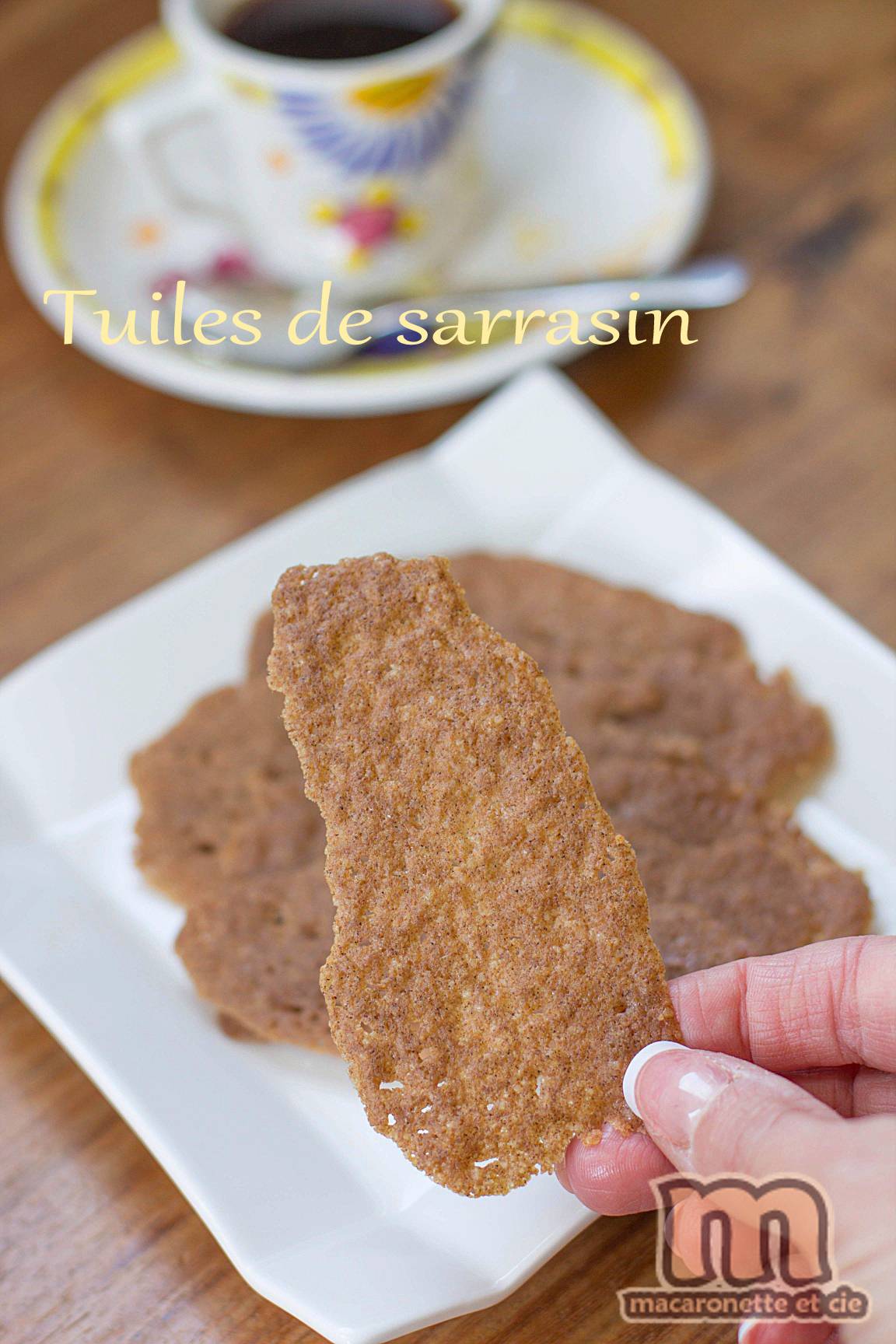 So, I wanted to have some triskelion form biscuit with a crunchy texture.
Therefore I accomodatde a little bite the original recipe to make a crunchy version as I expected. This recipe was born.
For the whole dessert, you will have to wait a little more...

Buckwheat Triskelion biscuits


For 50 biscuits
Ingredients
50 g melted butter
120 g buckwheat flour
50 g brown sugar
50 g honey
25 g egg white
1 pinch of salt

Mix together the melted butter, the buckwheat flour, salt, honey, brown sugar and white egg.
Put it in the fridge for 1/2 hour.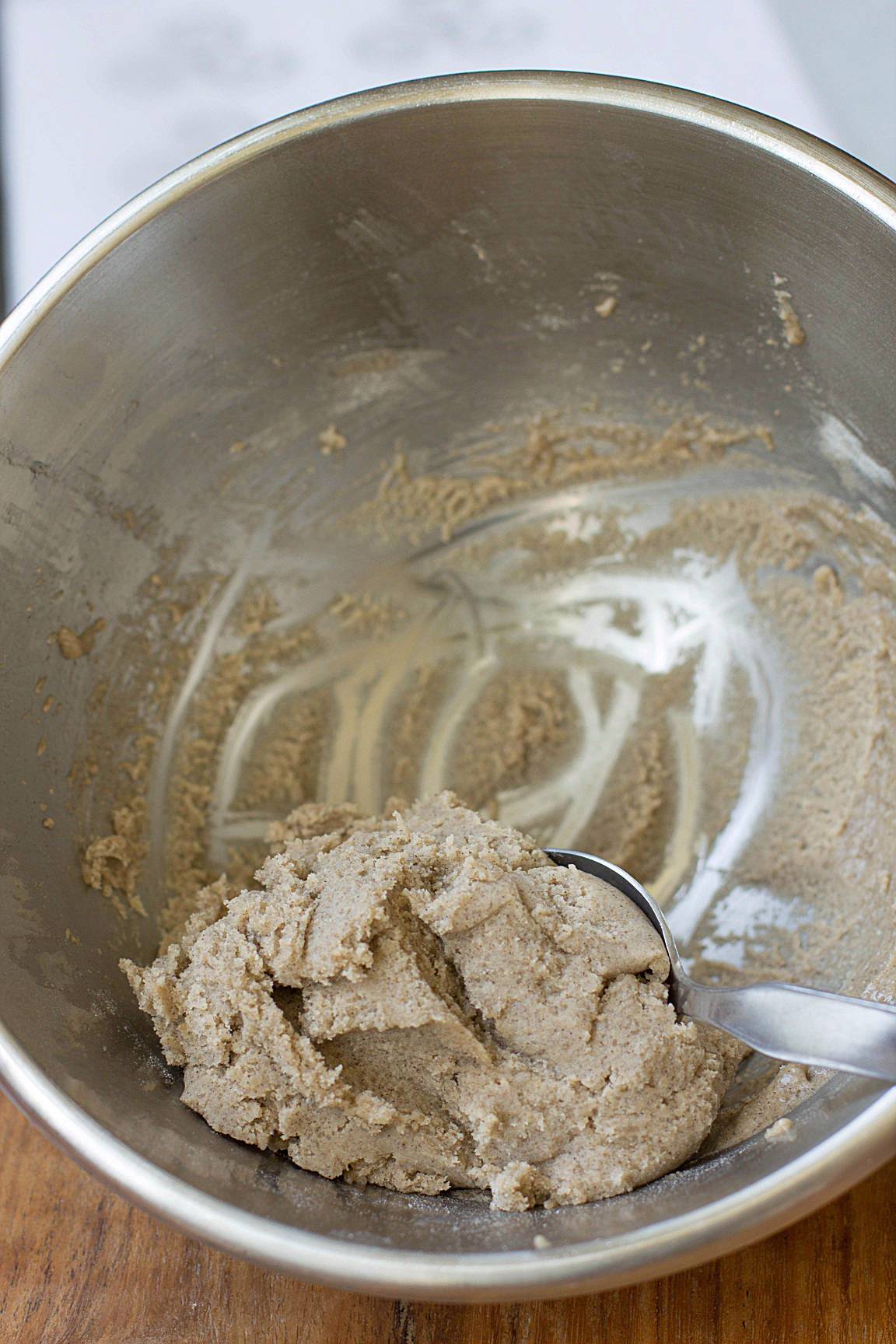 Preheat the oven at 190 °C.
Fill a pastry bag with dough with a hole of around 0.3 cm.
If the dough is too hard let it cools at the room temperature.
The dough shall soft enough to get out of the pastry bag just by squeezing.
Form the triskelion biscuit on a bakig sheet (at the end of the post I attached the triskelion size).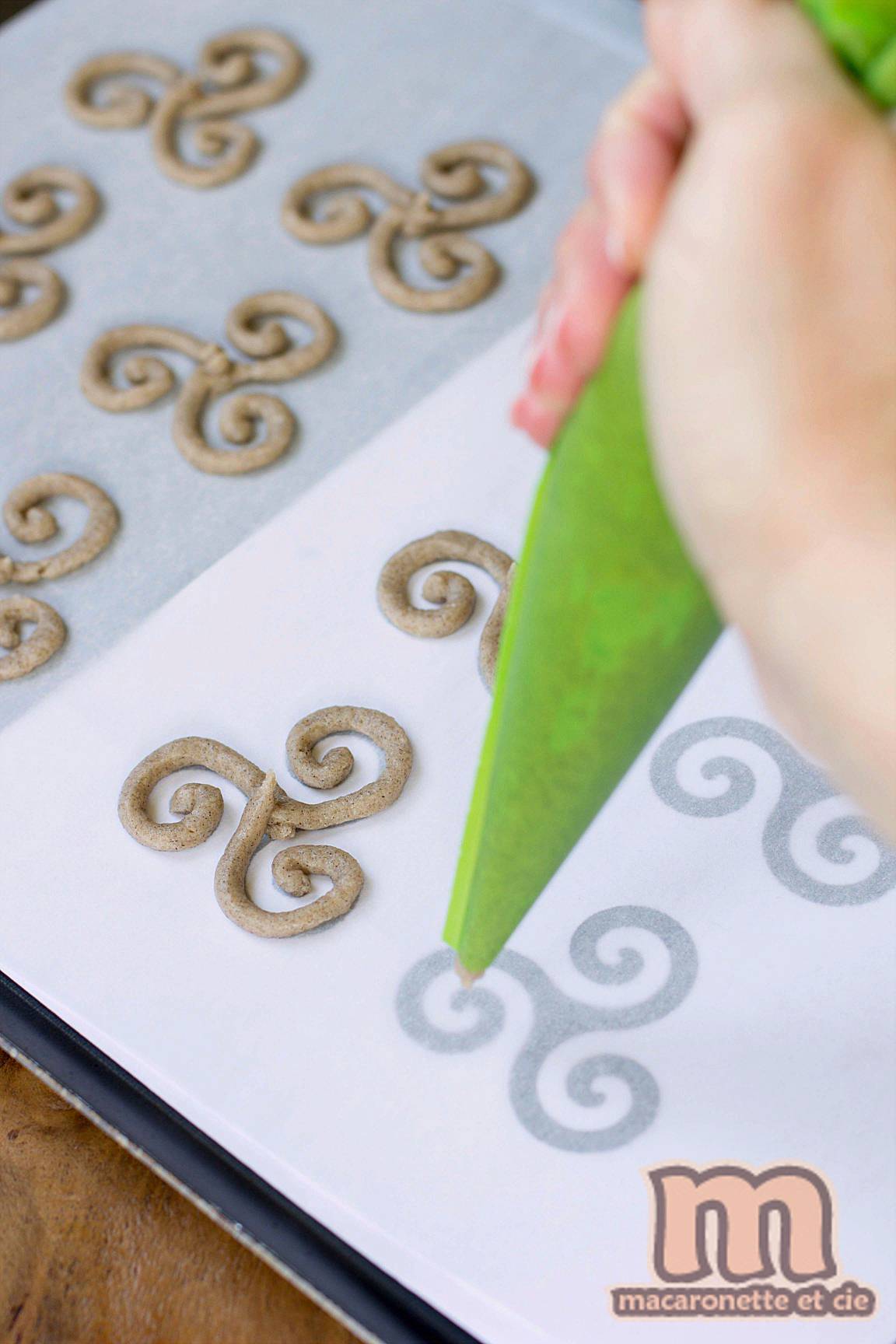 Let cook for 5 - 6 minutes,
and cool completely on wire rack.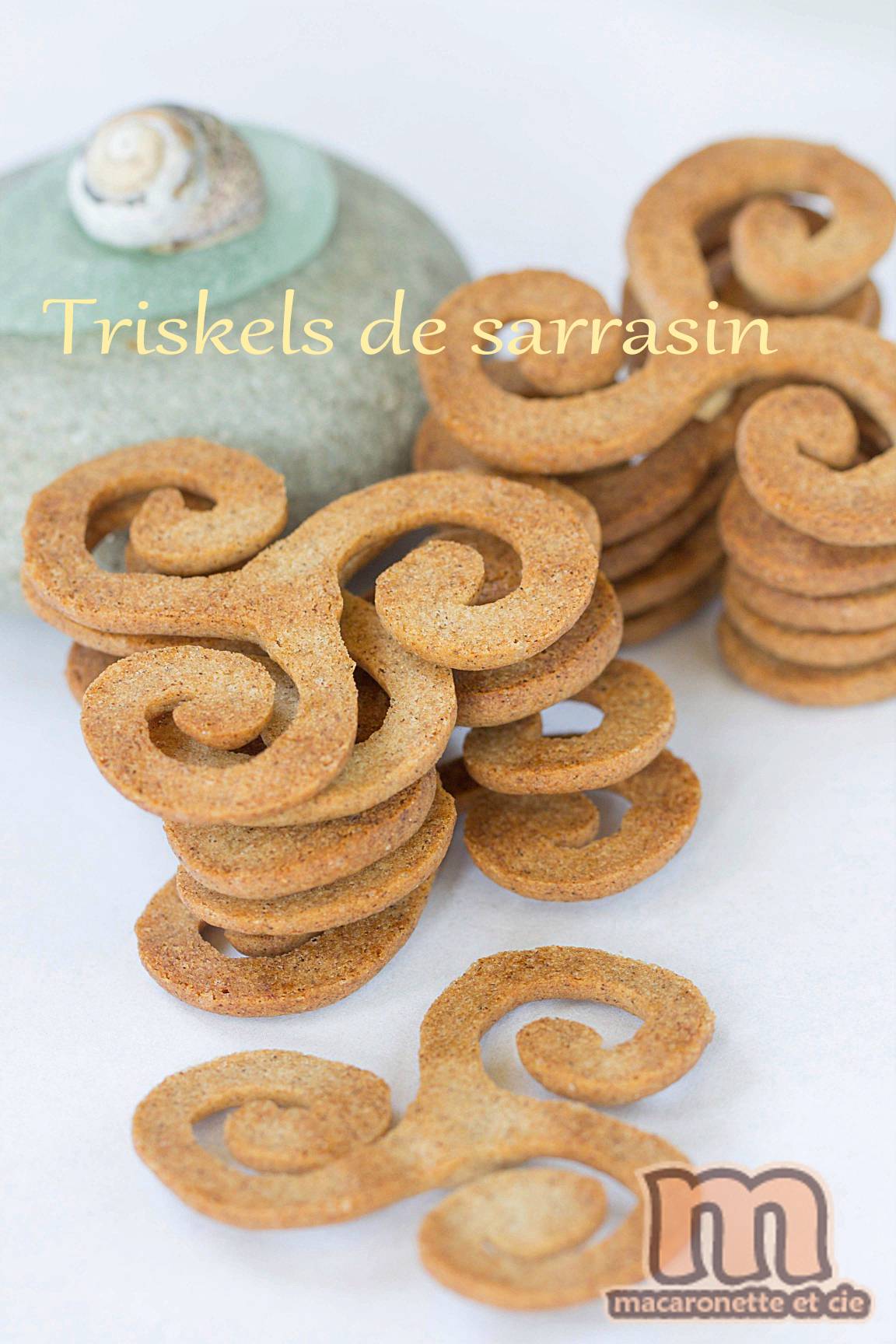 Triskelion biscuit size : triskel
Do not hesitate to leave a comment,
or like on FB or twitter if you enjoy this post.

Sorry for my English, which may be not proper, I am not a English native and do my best to translate or adapt my French post to help non French speaker/readers who follows my blog.

Click on the flag to come back to the French version
All texts and photos on this blog are the property of Macaronette et Cie (or Sbc).