For English speaker "Breizh" does not mean anything, but for a Breton (a French person from Brittany) it simply means "Breton" in the local patois. So here comes the second question : what is the link between Breizh (i.e. Breton) and panna cotta, as panna cotta is a typical Italian dessert ?

Panna cotta has really nothing to do with Brittany, that's true ! But it does not mean that you cannot be creative.

The idea of this Breizh panna cotta recipe came to me from an appertiser tasted in one of my favorite restaurant of the Finistère (the peninsula of the west part of Brittany), namely "L'Auberge des Glazicks" owned by the famous French Chef, Olivier Bellin. Olivier Bellin won its second Michelin Star in 2010 and in 2012 he was listed as one of the 158 best chef in the world.
It is not the first time, I eated at his restaurant, and it is always a great culinary pleasure and tasty experience, as he perfectly knows how to make outstanding and sublime dishes and a contemporary French cuisine with Brittany produce such as lobsters, oysters, pork, buckwheat...
His restaurant is located at Plomodiern with a great view on the countryside and the sea. If you are visiting the area, it is an adress which should not be missed out, or a good excuse to visit the area.
I really wonder what the Guide Michelin is wating for by not giving him a third star ? He really deserves it, on my opinion.

Having saying that, Olivier Bellin's panna cotta was a salty one : buckwheat panna cotta, red beet espuma and orange zest. So delicious !
This part of Brittany is also popular for its strawberries : the famous "gariguette". On my way back from vacations, I brought some local strawberries back home which inspire me a sugar version of buckwheat panna cotta. I must admit that I have a sweet tooth.
With regard to buckwheat, I am sure you recognize my buckwheat Triskelion biscuits from my previous post.

For this buckwheat panna cotta, my first try was not that good as I cooked the buckwheat directly with the cream, which resulted in a creamy dessert instead of a really panna cotta. It was a dissapointment !
So for the second test which is the above recipe, I used a recipe I found in a French magazine called "Saveurs". The taste of buckwheat is not as strong as I expected, but the texture is just perfect.

At the end, it was a nice dessert.

Breizh panna cotta

and buckwheat Triskelion biscuits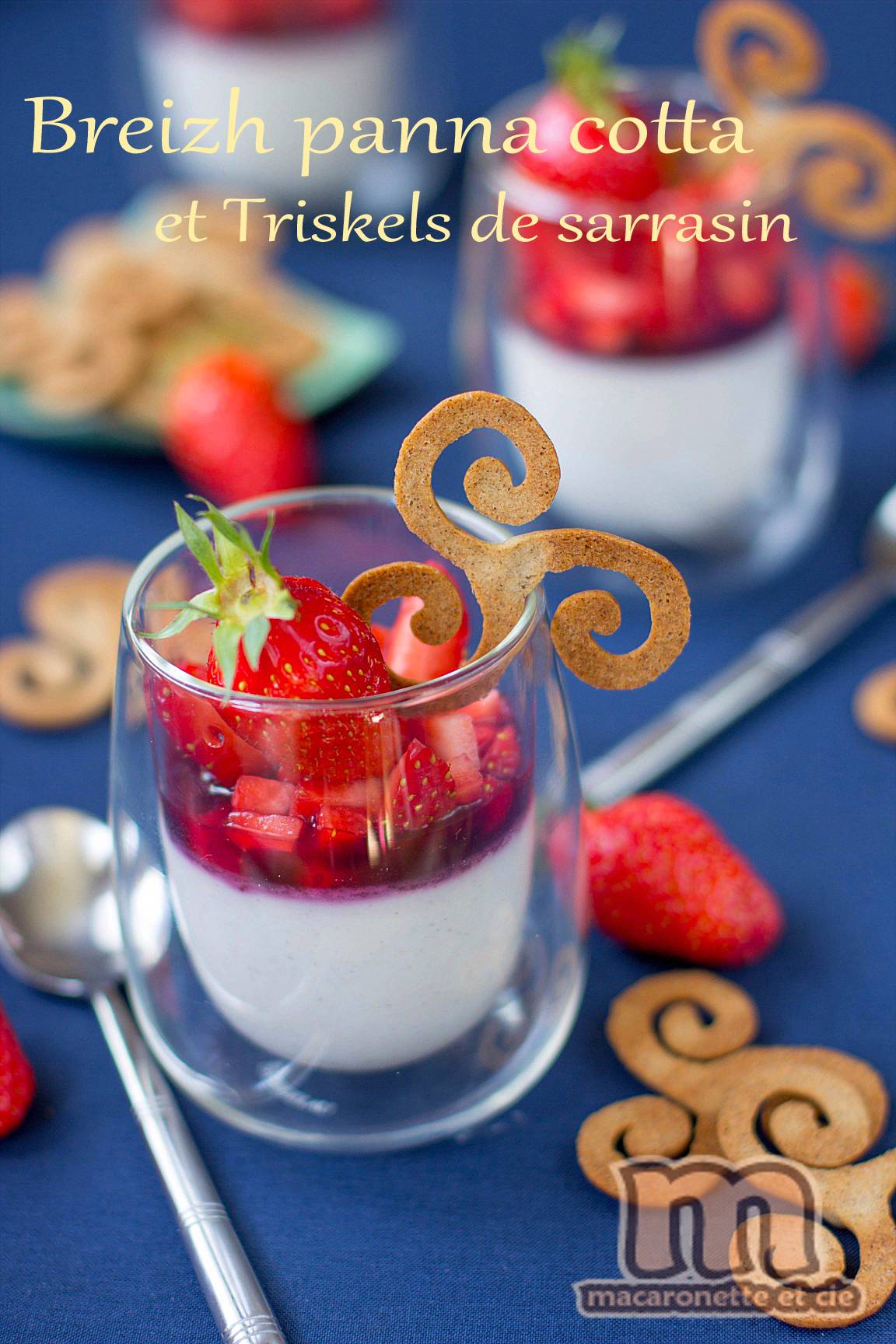 For 4 to 6 servings
Ingredients
40 cl double cream
20 cl milk
20 g buckwheat flour
3 gelative leaves
20 g sugar
200 g fresh strawberries
4 tsp of red fruit coulis

Bring the milk to simmer, stop heating and pour the buckwheat flour in.
Leave to brew until the milk is totally cold.
Then filter the milk.
Soak the gelatine leaves in cold water until soft.
Squeeze the water out of the gelatine leaves, then add to the pan and take off the heat.
Stir until the gelatine has dissolved.
Add the buckwheat flavour milk in and mix.

Divide the mixture among the ramekins and leave to cool.
Place into the fridge for at least an hour, until set.

Wash and dry the strawberries, keep some for decoration.
Cut the other in small cubes.

On each panna cotta, pour some red fruit coulis, and divide the strawberries cubes among the ramekins.
Decorate with strawberry and trsikelion biscuits.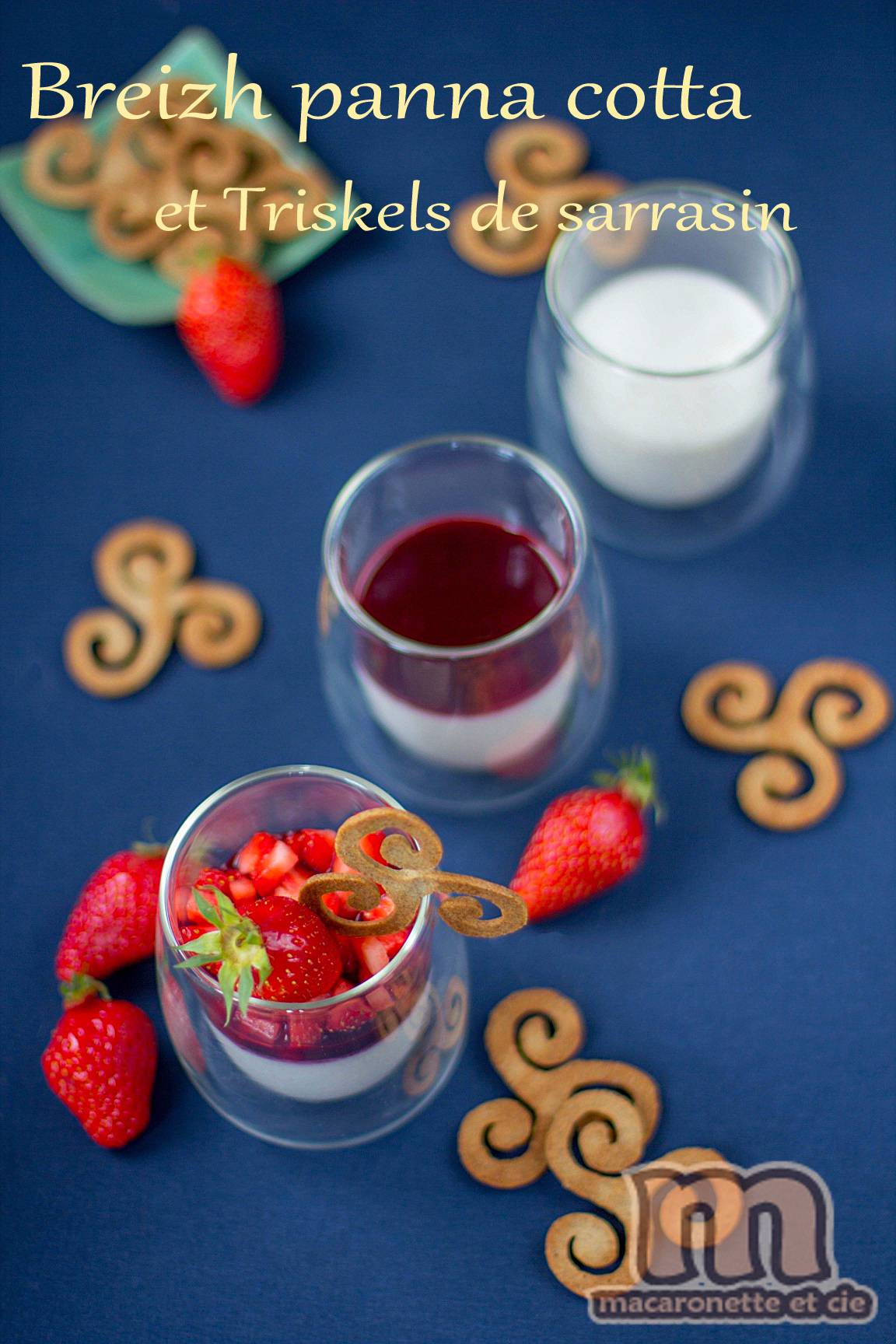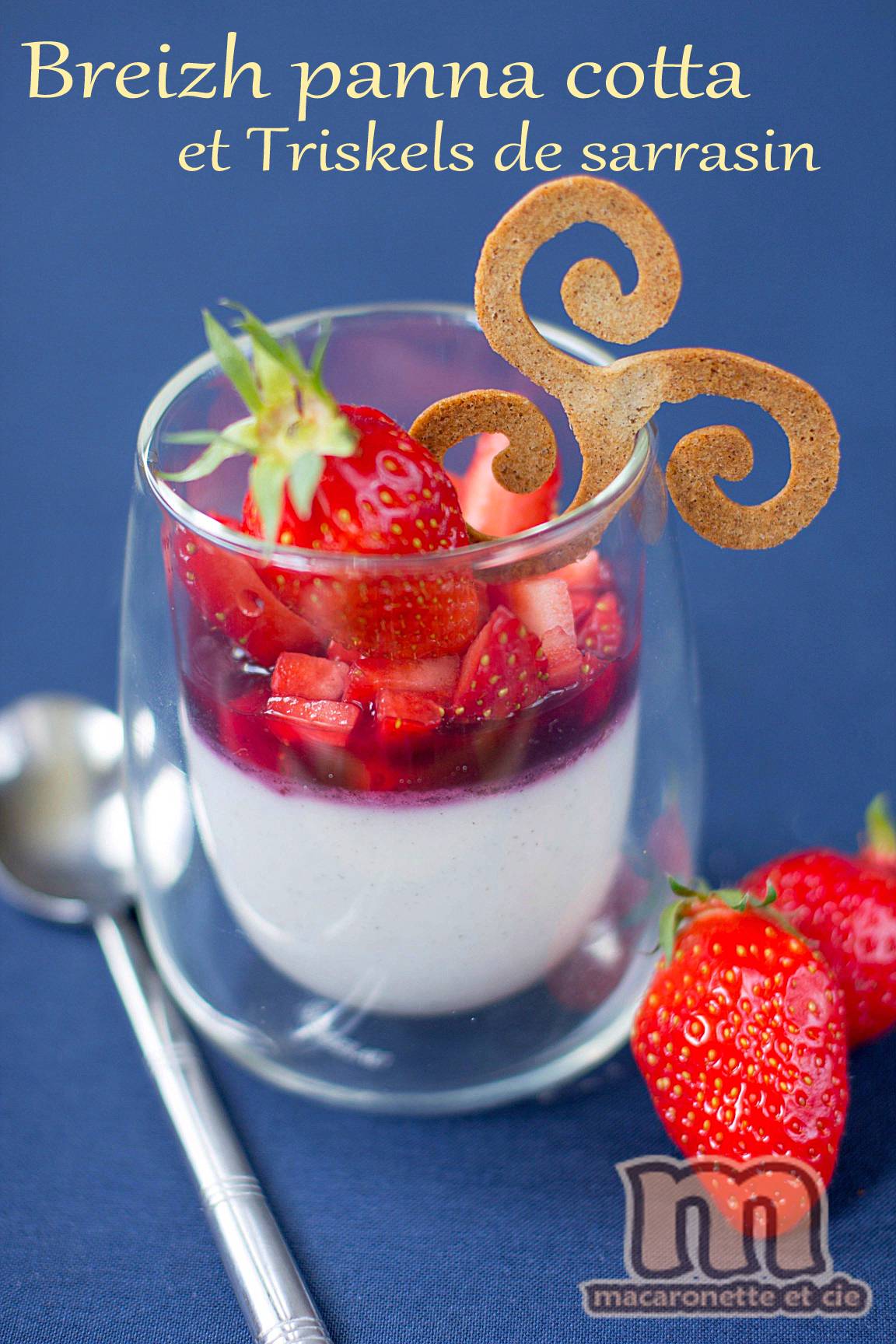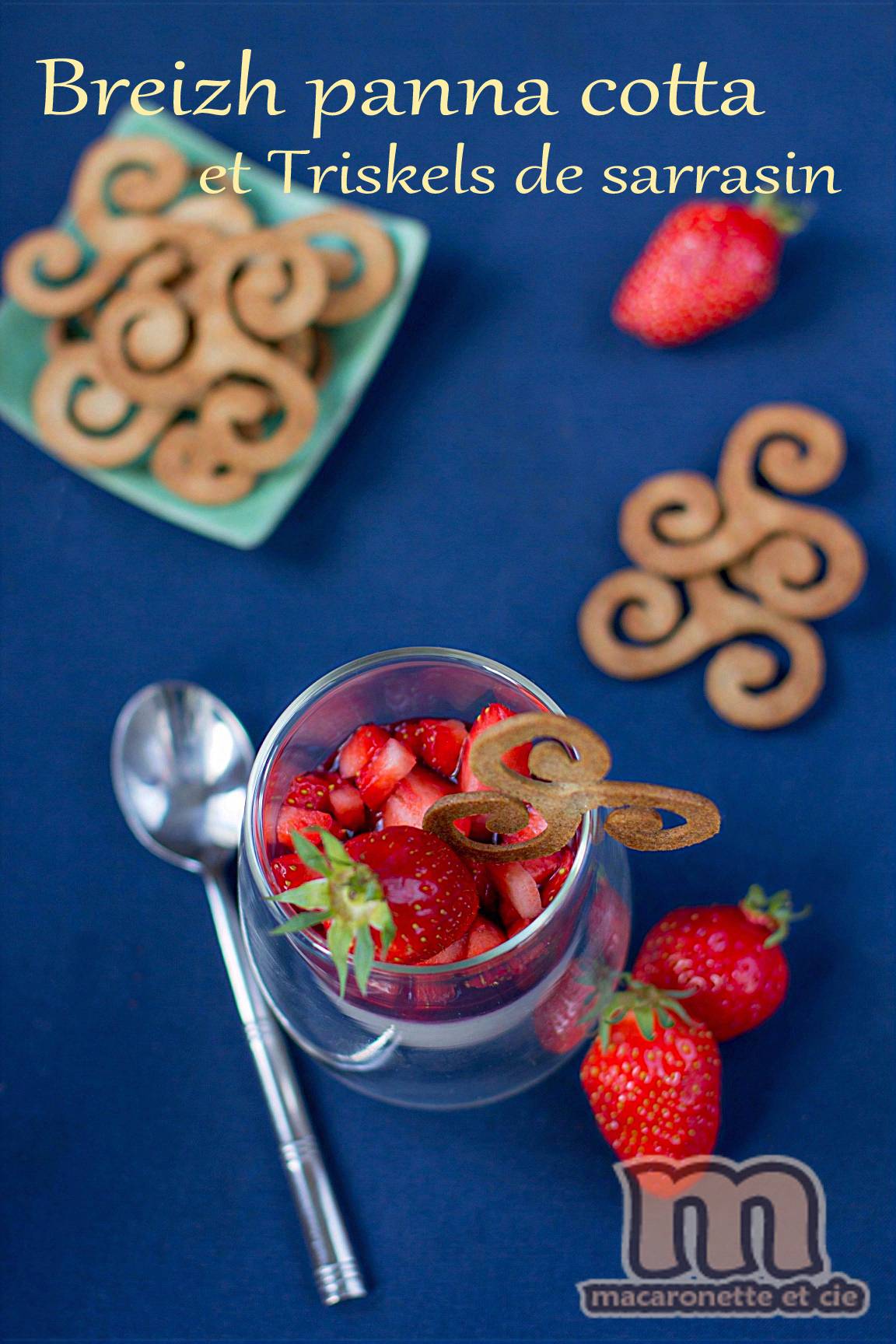 Do not hesitate to leave a comment,
or like on FB or twitter if you enjoy this post.

Sorry for my English, which may be not proper, I am not a English native and do my best to translate or adapt my French post to help non French speaker/readers who follows my blog.

Click on the flag to come back to the French version
All texts and photos on this blog are the property of Macaronette et Cie (or Sbc).